Huawei unveils the Mate 40 series flagship smartphones: Mate 40, Mate 40 Pro, and Mate 40 Pro+
Huawei unveils the Mate 40 series flagship smartphones: Mate 40, Mate 40 Pro, and Mate 40 Pro+
The last of all major 2020 smartphones are finally here. This evening (22 October 2020), Huawei unveiled the Mate 40 series flagship smartphones, introducing to us the Huawei Mate 40, Mate 40 Pro and Mate 40 Pro+. For your viewing pleasure, here's the middle portion of our Facebook Mate 40 series live stream launch event that captures the big-ticket features for the new series:-

Design
The Huawei Mate 40 series uses the same Space Ring Design on the rear of all three versions, where the concentric aesthetic returns to the Mate series devices. Where the Mate 30 series previously lined up the camera elements inside the Space Ring Design, the Mate 40 series lines the camera elements on the ring itself. The end product does look quite pleasing. On the front is a curved display which Huawei calls it the '88° Horizon Display'.
The Mate 40 devices have stereo speakers, but only the Pro and Pro+ variants have IP68 water resistance (Mate 40 gets IP53 rating). Both the Mate 40 and Mate 40 Pro offer five colour variants - classic Black, White, along with vegan leather colours Sunflower Yellow and Olive Green. The last colour is a colour-shifting Mystic Silver. For the Mate 40 Pro+, they get two colours, Ceramic Black and Ceramic White.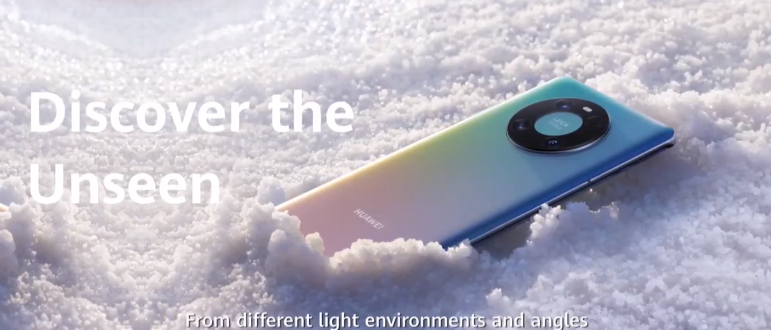 Display
Display-wise, the Mate 40 has a 6.5-inch OLED display, rated at 2,376 x 1,080 pixels resolution, 90Hz refresh rate, and 240Hz touch sampling rate for heightened touch responsiveness. It packs a DCI-P3 HDR colour gamut, too.
The Huawei Mate 40 Pro and Pro+ have a 6.76-inch Flex OLED display rated at 2,772 x 1,344 pixels resolution and 90Hz refresh rate and touch 240Hz touch sampling rate. Huawei didn't attempt to spec a 120Hz refresh rate as it felt 90Hz was a good balance between fluidity and managing battery life performance.
All three displays on all the Mate 40 phones support an in-display fingerprint sensor. The main difference between the regular Mate 40 and the Pro/Pro+ versions is the front camera cut-out, with the former being a pin-hole sized shape while the others use an oblong cut-out, but more on that later.

A new powerful processor
According to Huawei, the Kirin 9000 chipset inside the Mate 40 phones is the world's first 5nm-process, 5G-capable SoC, with a clock rate of 3.13GHz. Richard Yu, CEO of Huawei Consumer BG, said it has 30% more transistors than the A14 Bionic from Apple at 15.3 billion, making it one of the densest chipsets available in a smartphone. This new processor is what drives much of the phone new's capabilities.
The 8-core CPU, 24-core GPU, and NPU performance are reportedly 10%, 52%, and 2.4x faster than the respective performance of a Qualcomm Snapdragon 865+ chipset. Even in terms of 5G performance, the Kirin 9000's integrated 5G modem can supposedly run circles around the Qualcomm X55 5G chipset with five times the downlink capability and two times the uplink speed.
For mobile gaming, the Mate 40 series offers improved haptic feedback for an enhanced gaming experience, dual stereo speakers with 1.5x stronger bass, and not to forget the powerful 24-core GPU for 'pro-level' graphics for unrivalled gameplay.
Across the board, Huawei also said that the Kirin 9000 also offers better battery efficiency than the Snapdragon rival as it showed off its lead standing when pitted against the Samsung Note20 Ultra that has similar battery capacity and is a 5G smartphone. The Mate 40 has 4,200mAh, while the Mate 40 Pro gets 4,400mAh. Huawei didn't publicly state the Pro+ battery capacity in the keynote, but it's likely identical to the Pro because of the same dimensions and display size. The Pro and Pro+ get a maximum fast-charging speed of 66W wired charging and 50W wireless charging.
Imaging
The Kirin 9000 processor also hosts Huawei's most powerful image signalling processor (ISP) to-date which the company boasts has 50% higher processing throughput and 48% better video noise reduction over the previous Kirin 990 5G chipset.
Both Mate 40 and Mate 40 Pro use triple-rear camera configurations with slightly different specs. The main wide camera is 50MP, f/1.9 aperture on both models with the same RYYB sensor (which is the same sensor used on the P40 series), but the regular Mate 40 gets a 16MP ultra-wide camera at f/2.2. In contrast, the Mate 40 Pro gets a higher-rated 20MP ultra-wide cine camera. Telephoto cameras on both models are also different, with the regular variant getting an 8MP shooter at f/2.4 and 3x optical zoom, while the Pro version gets 12MP, f/3.4 aperture, and 5x optical zoom.
The Pro+ variant goes all out on its penta-rear camera system that has a lot more in common to the P40 Pro+ with both a 3x optical zoom lens and a 10x optical zoom lens (with a periscope lens mechanism). Besides the extra telephoto lens, the fifth camera is actually a ToF sensor for depth sensing. While it packs the same ultra-wide camera as the Mate 40 Pro, the lens gets an upgrade with Huawei's new Free-Form lens, while eliminates almost all distortion caused by fish-eyed, wide-angle lenses.
Both front and back cameras on the Mate 40 series phones can take up to 240fps slow-motion videos, among a host of other cinematic features like Super Steady Shot, Anti Portrait Distortion AI Tracking Mode and more that's courtesy of the processor's new ISP engine.

Software features
These Android 10-based phones ship with Huawei's EMUI 11 interface out of the box, with all three variants offering both Dynamic AOD (always-on display) and Eyes On Display (EOD) - a screen wake function to maximise your phone's battery life and only powers up the screen when you're looking at the screen. Additional Smart Gesture controls have been added, building upon the up-down motion that was previously available in Huawei's devices.
Lastly, yes, it's still driven by Huawei Mobile Services (HMS) and does not come with Google Mobile Services (GMS). That means you'll have to use Hauwei's AppGallery to install new apps or use Petal Search to easily find APK files of applications you need.

A Porsche-designed Mate 40
There's also a Porsche-designed Mate 40 device called the Huawei Mate 40 RS. The biggest difference in the Porsche model is of course its design language. Additionally, Huawei briefly mentioned its insane rear camera system but did not elaborate further during the live stream.

Pricing and availability
The global retail prices of the Huawei Mate 40 series phones are as follows:
Huawei Mate 40 (8GB RAM + 128GB storage): €899
Huawei Mate 40 Pro (8GB RAM + 256GB storage): €1,199
Huawei Mate 40 Pro+ (12GB RAM + 256GB storage): €1,399
Huawei Mate 40 RS (12GB RAM + 512GB storage): €2,295
We will update the article when local pricing and availability details are out.
Our articles may contain affiliate links. If you buy through these links, we may earn a small commission.