NVIDIA's DLSS tech may improve performance in Monster Hunter: World by up to 50 percent
NVIDIA's DLSS tech may improve performance in Monster Hunter: World by up to 50 percent
NVIDIA's Deep Learning Super Sampling (DLSS) technology is about to stomp its way onto Monster Hunter: World. According to NVIDIA, the Capcom game could see a massive performance boost of nearly 50 percent, an impressive jump that shows off the potential of DLSS.
DLSS has received mixed reviews so far. While it's supposed to improve both image quality and performance, there have been complaints that it actually softens the image and results in some vague blurriness in the overall picture. NVIDIA has been working on sharpening the image quality, and DLSS will feature a sharpness slider when it arrives on Monster Hunter: World. This means you'll be able to tweak the game visuals to better suit your personal preferences.
Hopefully, we'll see a sharpness slider come to other games as well to address grievances around the technology.
With an Intel Core i9-9900K and an NVIDIA GeForce RTX 2080 Ti, NVIDIA's own benchmarks claim that you can expect up to a 53 percent improvement at maximum graphics and a 4K resolution. DLSS also reportedly pushes the GeForce RTX 2060 and 2070 to over 30FPS at the same settings, something they were unable to achieve previously.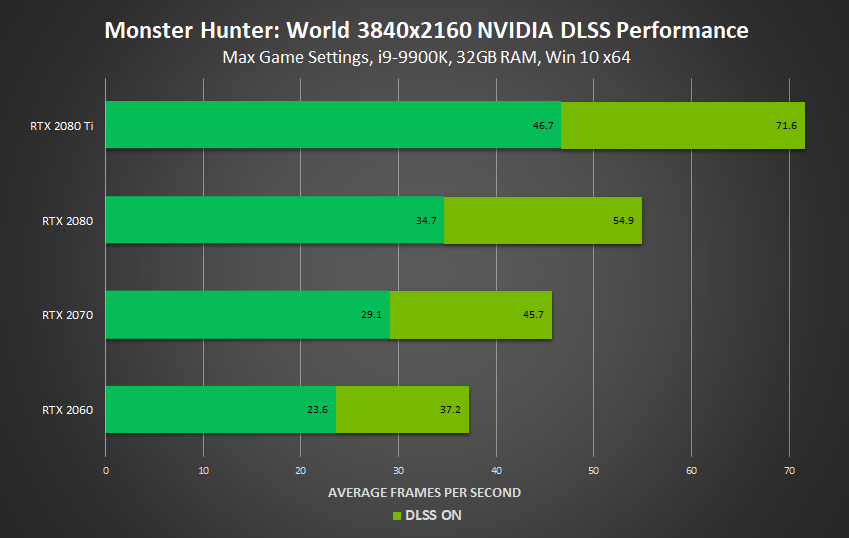 DLSS will be added to the game on 17 July, and you'll need to have the latest NVIDIA Game Ready driver and a GeForce RTX GPU to enjoy it. However, it looks like it'll only work at a 1440p or 4K resolution and Full Screen mode.
That said, with Monster Hunter World: Iceborne set to release in September, this update should be a welcome improvement for fans of the series.
Source: NVIDIA