NVIDIA launches GeForce RTX 2080 Ti, 2080 and 2070 to power a new level of gaming realism
NVIDIA launches GeForce RTX 2080 Ti and 2080 to power a new level of gaming realism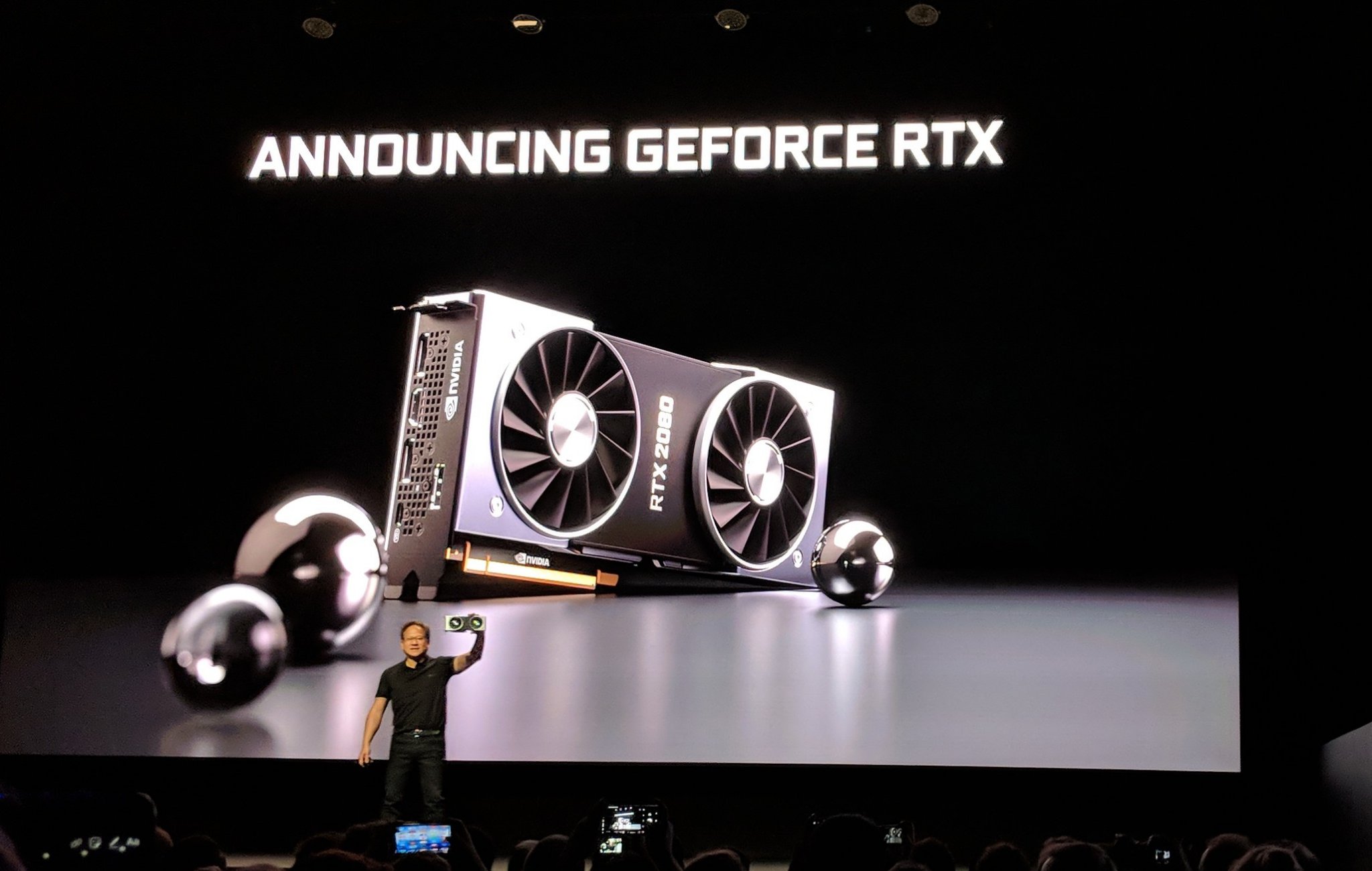 NVIDIA has been teasing us with real-time ray tracing and even games that will support it for some time now. Today, real-time ray tracing has finally arrived, thanks to NVIDIA's new Turing GPU architecture that first debuted a week ago on their US$10,000 Quadro RTX.
NVIDIA announced that you can get hold of most of that power on their new GeForce RTX 2080 Ti, GeForce RTX 2080 and GeForce RTX 2070, the first architectural refresh for its consumer cards since Pascal was unveiled over two years ago. The new 20-series cards will be available to buy on 20th September, and the GeForce RTX 2080 and 2080 Ti are already available for pre-order today.
Here's how the key specs compare with the GeForce GTX 1080 Ti and the GeForce GTX 1070:-
Graphics Card
NVIDIA GeForce RTX 2080 Ti
NVIDIA GeForce RTX 2080
NVIDIA GeForce RTX 2070
NVIDIA GeForce GTX 1080 Ti
NVIDIA GeForce GTX 1070
GPU
Turing
Turing
Turing
GP102
Pascal
Process
12nm FinFET
12nm FinFET
12nm FinFET
16nm FinFET
16nm FinFET
CUDA cores
4352
2944
2304
3584
1920
Real-time Ray Tracing
Yes - 10 GigaRays/s
Yes - 8 GigaRays/s
Yes - 6 GigaRays/s
--
--
GPU base / boost clock speeds
1350MHz /
1545MHz
1515MHz /
1710MHz
1410MHz /
1620MHz
1480MHz /
1607MHz

1506MHz /
1683MHz

Memory
11GB GDDR6
8GB
GDDR6
8GB
GDDR6
11GB GDDR5
8GB GDDR5
Memory clock speed
14,000MHz
14,000MHz
8,000MHz
11,000MHz
8,000MHz
Memory bus width
352-bit
256-bit
256-bit
352-bit
256-bit
Memory bandwidth
616GB/s
448GB/s
256GB/s
484GB/s
256GB/s
TDP
250W
215W
185W
250W
150W
Price
US$999
US$699
US$499
US$699
US$379
But specifications aside, the Turing architecture deliver some of the biggest changes we've seen in a long while. The highlight feature is the dedicated RT Cores, which massively accelerate real-time ray-tracing and enable far more realistic shadows in games.
On top of that, the Tensor Cores help with neural network processing and put AI to use in making certain decisions while rendering scenes.
What about the Founders Edition?
NVIDIA wouldn't miss a chance to offer their Founders Edition and it's no different this time with their reference grade industrial look and feel, complete with higher clocked GPUs (exactly 90MHz faster boost clocks on each GPU grade). For that, you'll have to fork out US$1,199 for the RTX 2080 Ti model, US$799 for the RTX 2080 model and US$599 for the RTX 2070. All three are available for pre-order now on NVIDIA's website.
The Founders Edition cards also represent a shift in design from their predecessors. NVIDIA has ditched the single-fan faceted design in favor of a dual-fan approach. This is probably the first card from NVIDIA to use a dual-fan, non-blower-style cooler, and it'll also come with factory overclocks instead of stock speeds, another first.
The GeForce RTX 2080 Ti Founders Edition will ship with a 1,635MHz boost clock, a nice increase over the 1,545MHz reference specification. Similarly, the GeForce RTX 2080 enjoys a 1,800MHz boost clock, versus the stock 1,710MHz speed.
Both cards also rely on vapor chamber cooling, among the most efficient methods of heat transfer, and sport a 13-phase and 8-phase power supply respectively for overclocking.
Finally, the GeForce RTX 2080 Ti Founders Edition is powered by two 8-pin power connectors and comes with DisplayPort 1.4, HDMI 2.0b, and USB-C outputs. Meanwhile, the GeForce RTX 2080 makes do with one 8-pin and one 6-pin connector.
The USB-C port supports VirtualLink, a new USB-C alternate-mode standard that's designed for virtual reality headsets. It is capable of transmitting video, audio, and data, and forms the basis for a new standardized connector for VR headsets.
So, what games can take advantage of real-time ray tracing technology?
None much at the moment, but plenty of cool ones are in the pipeline, just have a look at the spread (and yes, PUBG is one of them):-
What sort of difference can you expect during in-game play?
In short, you can expect ultra-realistic global lighting of the scene for an accurate depiction of material properties, realistic soft shadows and much more. A lot of it has to be experienced to truly feel its impact. This tech demo shows the expectations perfectly, but here are some in-game screenshots showed at the press conference with real-time ray tracing technology enabled and disabled:-
In the screenshot above, RTX lets the game bypass the limitations of screen space ambient occlusion by accurately allowing the light from the flames to reflect off the car's body. But with RTX disabled, light from the fire doesn't always hit the car, depending on the angle.
Similarly, RTX allows softer and more realistic shadows in Shadow of the Tomb Raider. If you pay attention to the character shadows in the two screenshots, you'll notice that the shadows in the bottom screenshot look like rigid cutouts, whereas the ones on top look much better.
Our articles may contain affiliate links. If you buy through these links, we may earn a small commission.