You may be able to get PCIe 4.0 on these ASUS X470 and B450 boards
You may be able to get PCIe 4.0 on these ASUS X470 and B450 boards
As it turns out, you might just be able to get PCIe 4.0 support on your ASUS X470 or B450 motherboard. While AMD is still adamant about PCIe 4.0 being exclusive to the new X570 chipset, the situation may not be so straightforward.
Reports have surfaced of a motherboard chart from ASUS that shows the exact level of compatibility for specific motherboards from the previous generation, down to whether or not they'll support PCIe 4.0 in a x16 or x8 configuration.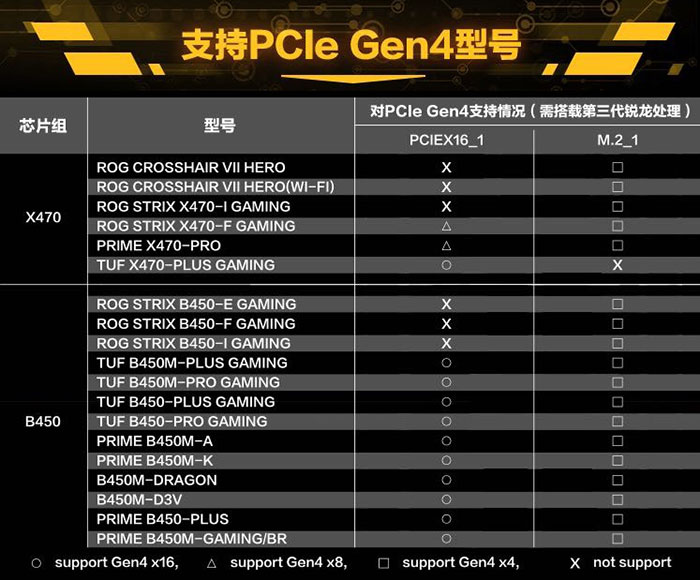 What's odd is that the lower-end B450 motherboards actually offer better support than the flagship X470 chipset. Only three B450 boards are listed as unable to run the first PCIe slot in Gen4 x16 mode, whereas the ROG Crosshair VII Hero doesn't even support PCIe 4.0 on its PCIe slots. What's more, the two X470 boards that do support PCIe 4.0 on their first x16 slot, the ROG Strix X470-F Gaming and Prime X470-Pro, are limited to x8 mode.
Support for PCIe 4.0 on the M.2 sockets look pretty robust though, with all but one of the boards supporting Gen4 x4 operation. Still, support is limited to just the primary PCIe x16 slot and M.2 sockets, since those are wired directly to the CPU.
Having said that, AMD has a pretty good reason for not wanting to officially enable PCIe 4.0 on older motherboards. Pre-X570 motherboards were never designed with PCIe 4.0 in mind, so they may not be as capable of running PCIe 4.0 signalling with the required stability and performance. To avoid performance issues and other complaints, the company is choosing to omit PCIe 4.0 entirely from older boards.
AMD has acknowledged that pre-release BIOS versions may offer PCIe 4.0 support for older motherboards, but it's likely that future versions will omit that entirely. So if you're somehow already running a firmware version that lets you enjoy PCIe 4.0 on your ASUS X470 and B450 board, you might be able to continue doing so if you don't update the BIOS in the future. However, this might mean missing out on any performance improvements that newer BIOS versions offer.
It's also not clear that this move would be entirely worth it, since existing GPUs are still not capable of saturating the PCIe 3.0 x16 standard anyway. Storage will see a larger benefit, but unless you have a really fast drive, you might not be missing out on much either.
At the moment, the situation appears still in flux and we also don't have further confirmation as to whether PCIe 4.0 has in fact been enabled on all the listed boards in the BIOS updates distributed at the end of June. If the slide really bears out though, and other board manufacturers follow suit, older X470 and B450 boards could become more attractive, especially considering how pricey the new X570 boards are.
Read next: Here's how much AMD's X570 motherboards cost in Singapore
Source: Hexus
Our articles may contain affiliate links. If you buy through these links, we may earn a small commission.